Student Trustee of the Board
Apply now to be Student Trustee of the Board for the Sudbury Catholic District School Board!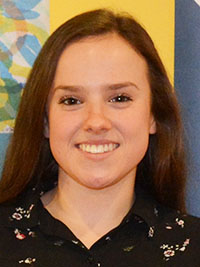 Student Trustee Kira Gouchie
Kira Gouchie is a Grade 12 student at Bishop Alexander Carter Catholic Secondary School. An advocate for student voice, Kira believes in giving all students the opportunity to be involved and engaged in education. Kira participates in a variety of sports at her school including flag football, volleyball, basketball and soccer. She is heavily involved in student council and the Gatorade committe, which helps organize activities for students in and outside the school community. Kira is active in the Link Crew program which assists new grade 9 students with their transition to high school. Apart from her studies at Bishop Alexander Carter, Kira also serves as a Youth Minister at St. Alexander parish in Chelmsford. She loves being involved in her community and spends her free time volunteering at the community dog rescue SAINTS. Kira exemplifies the Board's mission, vision and values both in and out of the classroom.

The Student Senate
The student voice is a valued part of the Sudbury Catholic District School Board.  The SCDSB Student Senate works to amplify this voice and bring it to the boardroom.  The Student Senate is comprised of two representatives from each of our four high schools.  These representatives are elected by the student body and sit on their respective school's student council.  This council meets regularly throughout the school year at meetings chaired by the Student Trustee.  These meetings allow students to discuss education issues, network with students from other schools within the SCDSB, and mobilize collective action.